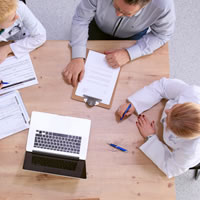 The dental watchdog is among nine regulators to have issued advice on how best to manage conflicts of interests.
Difficulties can arise in situations when a dental practitioner's judgement may be influenced, or else perceived to be influenced, by a personal, financial or other interest.
Now the nine organisations, including the General Dental Council (GDC), have pooled resources to issue new guidance on how to avoid and declare any potential conflicts.
In a joint statement, the regulators said: "The public rightly expect the highest standards of behaviour in the NHS, and we take our responsibility as custodians of taxpayers' money very seriously.
"Decisions involving the use of NHS funds should never be influenced by outside interests or expectations of private gain, but we recognise that conflicts of interest are unavoidable in complex systems."
A GDC spokesman added: "We are delighted to announce that we have signed the joint regulator statement offering advice regarding conflicts of interest.
"It is important that dental professionals are supported and familiar with the guidance available. This will enable them to uphold the GDC Standards, which includes putting patients' interests first."
Salhan Accountants are a multi award-winning firm. For more information about our specialist services for Dentists and Dental Practices, please contact us.